RazorPit Blade Sharpener
Price:
$26.78 (inc VAT)
$21.78 (exc VAT)
Rating:
( 4 product reviews )
Shipping:
Calculated at checkout
---
Product Description
The RazorPit is an innovative solution for those who use Gillette Mach3 and Fusion razor blades to name but a few. The RazorPit sharpens and cleans these blades extending the life of just one blade up to approximately 150 shaves. When you consider that on average a blade will last only one week the real value of this product becomes even more apparent. This device will help save a fortune on expensive razor blades and has been proved to work very effectively. A few quick strokes on the RazorPit will bring a blade back to new.
Works with many leading brands
Simple to use
Large cost savings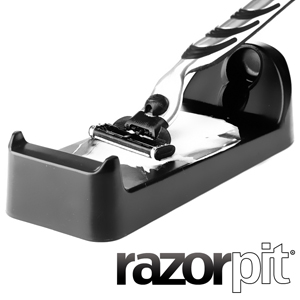 ---
Find Similar Products by Category
---
Product Reviews
This is just not a gimmick - it actually works......

Posted by Claus Henrik Seifert, Copenhagen, Denmark on 22nd Sep 2013

This product is - as far as I know - made in Denmark, my home country. At first I was hesitant towards getting such a gimmick - and just stropped my Fusion cart with my thumb, which also works just fine - but then I saw a review from a veteran member of a shaving forum actually admitting that this thing actually works ! He got 100 shaves in 3 months time using the same DE blade. Admitted the last 25 shaves were not the best, but still nice end result. I have now tested this device on my Fusion cart and I have gotten 12 fine comfortable shaves with the same cart. Since I mainly shave with DE blades, 12 shaves with a Fusion cart is more than a month of Fusion shaving for me, so this device has payed for itself in 2-3 months time. Recommended.


---

Good product

Posted by Peter on 22nd Sep 2013

Got this before moving onto DE shaving! It makes blades last longer yes,and I would recommend it to anyone who is tired of forking out for new cartridges all the time! It stretched my blades to 3 or 4 weeks.


---

Great Idea

Posted by Davidb on 22nd Sep 2013

This is basically a strop that works with blades. Blades are made from steel and stubble does not blunt them, it's basically the residue that sticks to the blades that dulls them. The razor pit removes this and works like a dream. One in the eye for the expensive blade manufacturers who con us with their marketing ideas!


---

The Razor Pit Works

Posted by John on 22nd Sep 2013

I have had this just over a week now and I am still on the same blade. So far so good for the Razorpit. I will be back next month with an update.


---
---
Customers Who Viewed This Product Also Viewed